At Fabforma, we use cutting-edge 3D printers to print your parts. We also use the most optimum printing technology & the material for your parts. Different 3D printers have different capabilities and even for a specific printing technology, different materials may have different design considerations.
This mini-guide can help product designers & engineers as a quick reference to various design considerations while designing new parts for 3D printing at Fabforma.
Minimum Wall Thickness:
The recommended minimum values for thin walls for various 3D printing materials & technologies are illustrated in the image shown below. While designing their 3D models for 3D printing at Fabforma, designers must adhere to these minimum values so as to try and avoid rejection of their models and print failures. These values hold true for all geometric planes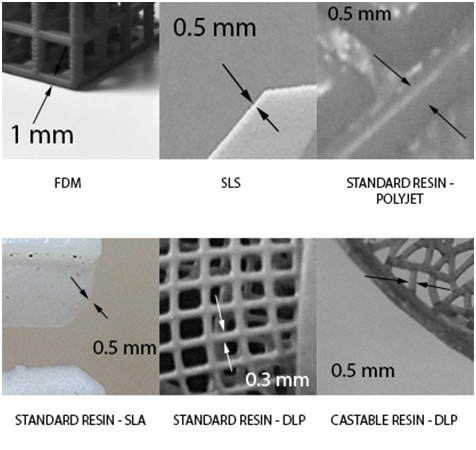 Minimum Feature Size:
It is primarily the x-y resolution of the 3D printer that determines the minimum feature size of your 3D models that may be printable. Features include walls, holes, pins, texts, etc. The values shown in the below image represent the minimum feature size on the x-y plane for different materials & 3d printing technologies. These minimum values have been tested by us and are the recommended minimum values for designers to adhere to when designing very small features into their parts for 3D printing at Fabforma.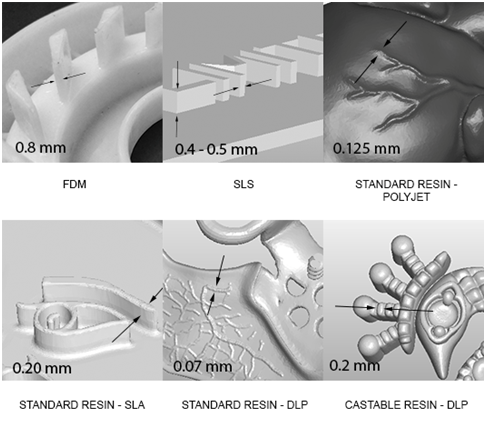 Minimum Gap Size:
The recommended gap sizes between features in a 3D model are represented in the image shown below. Designers must provide gaps of minimum sizes as illustrated below while designing for different 3D printing materials & technologies at Fabforma, so that the adjacent features do not fuse together while printing their models. This would hold true for features on all geometric planes.